RON DUPAS COLLECTION
No. 59. Ryan PT-22 Recruit "Miss Fort Knox"
Photographed at Evergreen Airfield, Vancouver, Washington, USA, August 1972, by Ron Dupas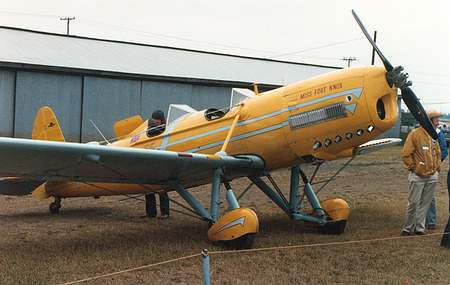 01/31/2011. This aircraft was produced in 1941 for the USAAF as a PT-22 Recruit, and was based on the S-T-3KR fitted with a Kinner five-cylinder radial engine (hence the KR in designation, Kinner Radial). It became one of few that have been re-engined with a 200 hp Ranger 6 six-cylinder inverted in-line engine, and is pictured with PT-22 unlike wheel skirts.